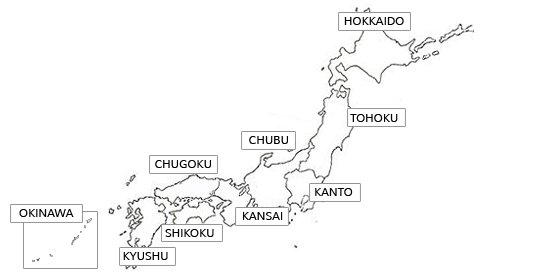 Japan has eight beautiful regions rich in culture and diversity. Select a region to explore and view available ryokans.
Welcome to Arai Ryokan. This Luxurious Ryokan was built in 1872, and it embodies traditional Japanese style with its Japanese gardens, tatami mat rooms, and fine woodwork. There are 25 Japanese style guest rooms located in various private cottages at Arai Ryokan. A wooden bridge leads to the guest rooms, and the rooms themselves overlook either the Katsura River or the courtyard with its large pond full of carp. Arai Ryokan's cavelike bathhouse was built in 1933, and thick cypress pillars together with massive rocks surround its many hot spring pools. There are both indoor and outdoor shared hot spring baths as well as private hot spring baths in some of the guest rooms. Furthermore, there are saunas and a ""Family Bath"" that can be reserved for private use. Arai Ryokan has a teahouse set in a orchard of 3,000 plum trees, and from there a wonderful view of Mount Fuji is available. Arai Ryokan serves traditional, formal Japanese cuisine in the privacy of each of the guest rooms. Check-time is after 15:00 and check-out time is before 11:00am. Parking is available, and English is spoken.
Facilities
(click to expand)
GUEST ROOMS
Japanese Style Room with Private Bath
Japanese Style Room with Private Toilet Avialable
Large Japanese Style Room (4 or more guests)
Non-Smoking Rooms
Hanare, (Private Guest Residence)
Towels
Children under 12 Years allowed:
HOT SPRINGS and BATHING FACILITIES
Shared Outdoor Hot Spring Bath (Same Gender Only)
Shared Indoor Hot Spring Bath (Same Gender Only)
Private Hot Spring Bath in Guest Room

N/A

Private Outdoor Hot Spring Bath (Attached to Guest Room)
"Family Bath" (Privately Reserved Hot Spring Bath)
Mixed Outdoor Hot Spring Bath
Shared Outdoor Bath (Same Gender Only)
Shared Indoor Bath (Same Gender Only)
Private Outdoor Bath (Attached to Guest Room)
"Family Bath" (Privately Reserved Bath)
Mixed Outdoor Bath (Both Genders)
MEALS
Dinner and Breakfast Plan Available
Breakfast Plan Only Available
No Meal Plan Available
Special Meal Request (e.g. No Pork)
Vegetarian Meals (with fish)
Vegetarian Meals (no fish but with fish broth)
Western-style Breakfast
Dinner Served in Guest Room
Breakfast Served in Guest Room
OTHER
English Ability of the Ryokan Staff/Owners:

Good English Spoken

Internet Connection:
Parking:

Free Parking

Curfew Time:

No Curfew

Pickup Service:
Pay with a Credit Card:
Shops and Restaurants Near Ryokan:
Guest Photos:
You Must Be Logged In To Submit A Guest Review
Ryokan Reviews:
Great relaxing stay
Paul
Month Of Visit: April
Country Of Reviewer: US
We arrived at the station and first tried to walk the \"ten min cab ride\" that turned out to be a mistake, though we did get to walk through very nice and beautiful back streets. Luckily a very friendly shop owner informed us that we were nowhere close and called a taxi for us. When we arrived the staff was extremely friendly and they answered all of our questions and helped us out with everything, we can\'t speak Japanese and some of their staff can\'t speak too much English but we managed with miming to figure everything out. The room was great and the atmosphere was outstanding we just loved being able to walk around and see everything, we were only there for one day and had to rush out the next morning to make our train so we did miss seeing any of the surroundings but if you have time I would definitely say stay more then one night to be able to enjoy this wonderful country side. The only downside for us was the traditional food, and don\'t get me wrong that\'s part of why we went here was to try out what Japanese traditional food is like, but it\'s definitely a shock to American taste buds so just be prepared!
Thank You for welcoming us Americans so warmly
jeniffer
Month Of Visit: March
Country Of Reviewer: USA
The best Japanese experience ever. Staff was warm, welcoming and respectful.. If you are looking for peace and tranquility you found the right place. xoxo Love US