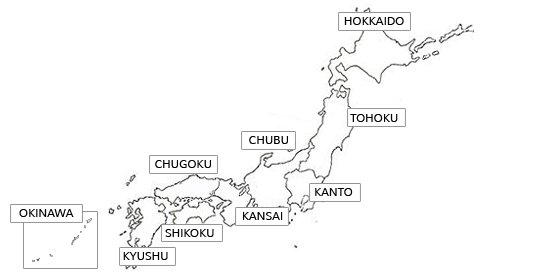 Japan has eight beautiful regions rich in culture and diversity. Select a region to explore and view available ryokans.
Welcome to Sawanoya Ryokan. This Standard Ryokan is located near Ueno Park in the northern part of Tokyo. All of the guest rooms are Japanese style and most of the rooms do not have private baths or toilets (guests must shared the bathing and toilet facilities). Furthermore, all rooms and public areas are non-smoking areas. There is also Internet access in all of the guest rooms (you must bring your own computer however). Check-in time is after 3:00pm and check-out time is before 10:00am.
Facilities
(click to expand)
GUEST ROOMS
Japanese Style Room with Private Bath
Japanese Style Room with Private Toilet Avialable
Large Japanese Style Room (4 or more guests)
Non-Smoking Rooms
Hanare, (Private Guest Residence)
Towels
Children under 12 Years allowed:
HOT SPRINGS and BATHING FACILITIES
Shared Outdoor Hot Spring Bath (Same Gender Only)
Shared Indoor Hot Spring Bath (Same Gender Only)
Private Hot Spring Bath in Guest Room
Private Outdoor Hot Spring Bath (Attached to Guest Room)
"Family Bath" (Privately Reserved Hot Spring Bath)
Mixed Outdoor Hot Spring Bath
Shared Outdoor Bath (Same Gender Only)
Shared Indoor Bath (Same Gender Only)
Private Outdoor Bath (Attached to Guest Room)
"Family Bath" (Privately Reserved Bath)
Mixed Outdoor Bath (Both Genders)
MEALS
Dinner and Breakfast Plan Available
Breakfast Plan Only Available
No Meal Plan Available
Special Meal Request (e.g. No Pork)
Vegetarian Meals (with fish)
Vegetarian Meals (no fish but with fish broth)
Western-style Breakfast
Dinner Served in Guest Room
Breakfast Served in Guest Room
OTHER
English Ability of the Ryokan Staff/Owners:

A Little English Spoken

Internet Connection:

In Room LAN

Parking:

No Parking

Curfew Time:

23:00

Pickup Service:
Pay with a Credit Card:
Shops and Restaurants Near Ryokan:
Guest Photos:
You Must Be Logged In To Submit A Guest Review
Ryokan Reviews:
Hyggeligt og charmerende
Marianne
Month Of Visit: May
Country Of Reviewer: Danmark
Rigtig hyggeligt Ryokan. Vi blev mødt med den største imødekommenhed og venlighed. Stedet er pænt, rent, hyggeligt og fyldt med charme.
Warm welcome in good location
James
Month Of Visit: March
Country Of Reviewer: UK
This was our first stop on a 3 week trip around Japan. The ryokan is easy to find and conveniently located. It is in a nice quiet residential area within walking distance of Ueno Park (about 20 minutes). If you like exploring non-touristy areas you will enjoy this location. There is a high street very nearby with shops and restaurants and the metro. Sawanoya itself is a delightful place. The welcome you will receive is very warm and friendly, the owners really helpful and kind. Our room was a decent sized tatami room with sink in an entrance area. There were toilets across the hall. Downstairs are two baths with showers, one for 1 person and the other for 2. We never had to wait to use these. This is a wonderful experience, particularly after a day exploring Tokyo. The pictures posted don\'t do them justice. In the morning you can have a light breakfast of toast with jam or eggs. Service is quick and this is very reasonably priced. I would definitely stay here again and recommend it whole heartedly.
Charming and very friendly Ryokan
Andrew
Month Of Visit: September
Country Of Reviewer: United Kingdom
This ryokan was my first ever accommodation in Japan. I stayed there on the recommendation of my son and daughter-in-law who\'d stayed there previously. I am so glad that I did. This is an extremely welcoming establishment with good basic facilities. It is very clean and tidy. The mattress we slept on was a little thin, but that was my only minor \"niggle\" It is situated in a quiet and interesting area of mighty Tokyo, within easy reach of Nezu subway station, shops and restaurants. I highly recommend Sawanoya to travellers as it will give you a real taste of Japan.
Ryokan Sawanoya is the best place I stayed in Japan
Alina
Month Of Visit: July
Country Of Reviewer: Russia
Both me and my mother liked staying in this ryokan very much and would like to stay there again if we have a chance to visit Tokyo again. The rooms are very cosy and the staff is friendly. If you use a JR Pass, it may be a bit difficult to find the ryokan at first but the way is rich in temples and there is much to see, so it\'s worth walking all the way. However, it is close to Nezu Station. I think that staying in this ryokan will give you a real taste of Japan, that\'s why I absolutely recommend it.