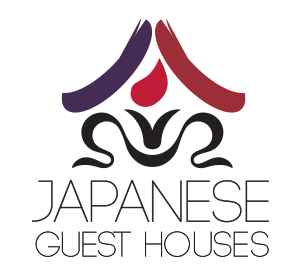 Email Address/Password
Not a member yet?
Choose your destination.
Select an area of Japan you wish to visit to search for Japanese Guest Houses or Ryokans in the area.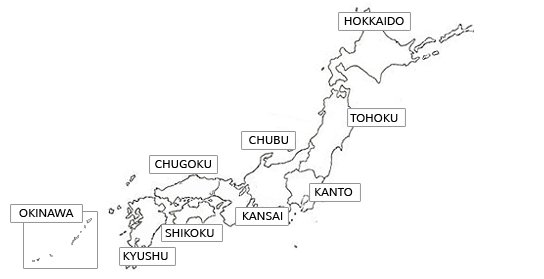 Japan has eight beautiful regions rich in culture and diversity. Select a region to explore and view available ryokans.
Japanese Hot Springs
Hot springs have a very long history in Japan, and they are an intimate part of Japanese culture. There are over 3,000 "onsen" – or hot springs – in Japan, many which can be found at the ryokans listed at Japanese Guest Houses. Onsen are created from water heated naturally underground, and the water varies both in degrees and in mineral composition. The water is piped into the ryokans or other establishments, and then regulated at various temperatures. At many ryokans, there will be large indoor onsen for both men and women.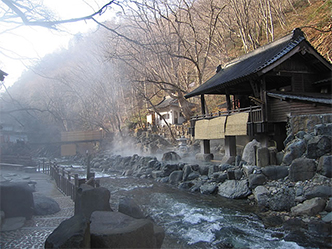 They may often have several pools with wall-length windows where you can look out over a garden, river, or another natural setting. The interior may be lined with natural rocks and decorated with various kinds of tropical plants. There are also outdoor onsen called "rotenburo." At some ryokans they can be found nearby, and they are often open all night. The outdoor onsen can be more rustic than the indoor onsen, and often they do not have any changing rooms.
The best time to visit a hot spring ryokan is during cooler weather – late fall, winter, early spring – so you can be outside and enjoy the hot temperature in the cool/cold air. Snow falling in an outdoor hot spring is an experience not to be missed.
The most crowded time to visit a hot spring ryokan is on weekends as this is when Japanese visit hot springs. Also, avoid the holiday seasons of "Obon" (early, mid- August), "Oshogatsu" (late December, early January), "Golden Week" (late April, early May) because prices increase and reservations are hard to make. Other busy seasons are cherry blossom season (early April) and autumn leaf season (November).
Destinations with Hot Spring Ryokan:
TOP PICKS! OUR HOT SPRINGS RECOMMENDATIONS